The certificate is a document that captures the energy state of a house and is now at the house selling commitment!
If you think an owner against the law, threatening severe penalties. However, an energy certificate not only plays an important role if you want to sell a property. Even if you are planning an object for rent, potential buyers can get an idea of the expected energy costs and possibly compare homes based on the energy certificate. Let therefore quickly and easily consult with our certified energy value expert.
For sellers, the creation of the energy certificate is free of charge with order!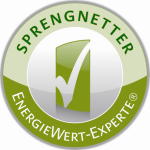 As an owner, you usually have the choice between the making of a demand or a consumption card. But where is the difference?
A consumption certificate provides information on the actual energy consumption of a house. Here, an average of the consumption values ​​of the past three years is formed to determine consumption. are for refer to billed consumption.
The requirement pass in turn is created based on an analysis of the home and requires an inspection of the property. Here, the roof, the walls, the heating and the windows are evaluated. From the determined characteristics of the building parts of the theoretical energy demand of the building is calculated. Which energy certificate for buildings which is possible or necessary, depends on both the building and plant engineering as well as the submission of accurate consumption data. Correspondingly, the cost of the energy certificate to occupancy and labor judge.
Are you not sure if you need a consumption or demand certificate? We're here to help.
For questions, please use our contact form. We will call you back.